The First Cartoon Series, 1975.
Few cartoonists have a record of their very first serious work. Fortunately, Wes Oleszewski has his first attempt at a cartoon series, and thought that some folks may find it fun to see how the whole thing got started.
"Forage to the Bottom of the Sea" was Wes' first attempt at writing a serious cartoon strip. The idea came to him while he was supposed to be paying attention in his 11th grade electronics class, and that evening he went home and started to draw a spoof of the 1960s television series "Voyage to the Bottom of the Sea". The cartoon has its roots in a friendly competition of rocket building between Wes, who called his fictitious company "Cruman Aircraft" after the famed manufacturer "Grumman", and his childhood best buddies Jim Brink and Ken Wolff, who were calling them selves "North American Rocksick" and "McDonald Dogless" respectively.
Featured in the "Forage" cartoon is a small submarine with a crew of ants that travels to Wes' old neighborhood and engages in mayhem with his old buddies Jim and Ken. Both of these friends of the cartoonist appear in the strip as humans and as ants. The author claims that the strip was meant strictly to entertain his buddies and that he had no other publication in mind. The strip was completed in early 1975 and then stashed away for many years. It later ended up in a scrapbook in which all of the author's early works were pasted and thus was saved from being simply lost.
There are a number of interesting characteristics in this first strip that can be seen in Wes' work today, and many characteristics that do not carry forward. The most outstanding joke is the attacking terd. It seems that no matter where Wes' ants go on their adventures, deep into the sea or far out into space, they get attacked by a terd. The reasoning for this is that the author simply finds the concept to be "funny as hell". One concept that does not carry forward is that Wes' early ants walked on all six legs, like real ants. In later works, his ants stand upright like humans. The "Forage..." strips as they appear on this web site have been "cleaned" due to their poor appearance. Originally, these strips were drawn in pencil and are now in very poor condition when scanned into the computer. The author worked for a full week to painstakingly enhance and preserve each individual frame. It was his intention to make the strips readable while preserving as much of the original image as possible.
The little submarine, which in "Forage to the Bottom of the Sea Part II" would be named the "Leavyou", went through a number of adventures in the late 1970s including "Forage... Part II" and "Forage... Part III", "Gums" and "Moldy Dick". Currently, the author is working on an all new, modern version of "Forage to the Bottom of the Sea" which will make its first appearance on this web site, and he assures the readers that there will be an attacking terd, in fact there may be a lot of terd attacks.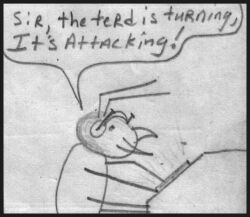 |Part I|Part II|Part III|Part IV|Part V|
Story continues in the Ant Archives