In the year 2000, Wes intends to make Klyde Morris as popular and edgy with the entire aviation community as it was with the people at Embry-Riddle. His "Reno Rangers", a fictitious group of airport security screeners elevated by the FAA to the level of a tactical S.W.A.T. team, will create humorous havoc far into the future along with Klyde's pager and computer. Readers can feel safe in knowing that Wes knows the advantage of Internet publishing and whenever there is a major event in the aviation industry, they can log onto klydemorris.com and see Klyde's take on the matter. A good example of this occurred when a Southwest Airlines 737 over-shot the runway at Burbank Airport. Within two hours of his hearing about the event, Wes had a cartoon posted about the incident that almost made a United pilot "cough up a lung".

Taking up residence on the Internet allowed Wes a great deal of flexibility in the ways that the cartoons are produced and soon new technology was working along side the cartoonist's pens, pencils and erasers.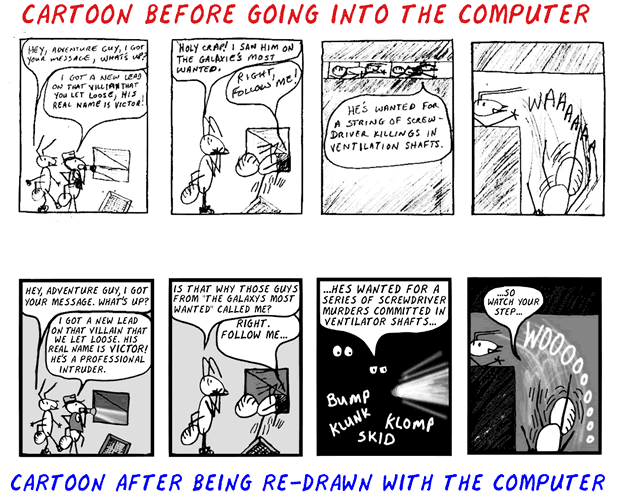 Electronically, lassos and airbrushes were put to work and for the first time the ants were appearing in color. In fact, one of the worst dilemmas that Wes had ever faced as a cartoonist was selecting the shades of color which would make the ants look like the real thing while still allowing adequate resolution for clear facial expression. In late 1999, Wes trashed his computer's mouse and began using a WACOM pad and pen to draw directly into the computer. Additionally, he also trashed his old scanner and purchased a top of the line unit to allow his drawn work to better translate into the cyber world. Later, in the spring of the year 2000, and after months of tedious work, ZeWebmaster delivered to Wes "the fonts". This little piece of software allows Wes to type the words to his drawings into his computer and have them appear in the cartoons in his own hand writing! This not only makes the words appear with far greater clarity, but also greatly speeds the production of each cartoon.
Plans now include motion animation for klydemorris.com and a number of interactive fun things that will allow readers to spend time hanging around with Klyde and the other ants of Wes' world. Wes also makes the pledge to his readers that klydemorris.com will always remain free of charge and free of influence. When you log onto klydemorris.com, you are always going to get the insane truth... fair and unbalanced..